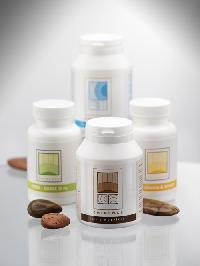 Supplements
You might have read that "food supplements are a waste of money - we can obtain all the vitamins and minerals we need from a balanced diet". This may be true if you can grow your own organic vegetables, live a pollution and stress-free life, and have perfect genetics, but this is unlikely to apply to most people. Even assuming that you eat 5 or more portions of fruit and vegetables daily, you could still be deficient if your food was grown on mineral depleted soil - and since 1941 the mineral content of UK soil has decreased by over 50%! Individuals even more at risk include the elderly, smokers, drinkers, exercisers, convalescents and women who are pregnant, breastfeeding or hoping to become pregnant. Restrictive diets, food intolerance and reliance on pre-cooked fast food will all increase the likelihood of deficiencies.

EMINENCE offers access to a range of specialist practitioner-quality supplements. These include our own branded products, which represent remarkable value as there are no 'middle men' or advertising costs. Margaret Papoutsis has personally formulated our best selling product Joint Nutrition . Who better than a Nutritional Therapist, who is also an Osteopath, to help you with your joints and bones? Her lifetimes experience in complementary healthcare has also resulted in a collection of hand-picked supplements which cover a wide variety of health interests.
| | |
| --- | --- |
| | VITAMIN AND MINERAL levels in food are reducing yearly, so many people are now looking to protect themselves against possible deficiencies. We offer a number of tried-and-tested supplements which have been much praised by previous users. They range from high quality, broad spectrum multivitamins to more specialised products for preconceptual and pregnancy care, bone and joint health, and natural anti-inflammatory products. The range is enlarging regularly, as we introduce new supplements which have proved effective in our own 'road tests'. |
| | |
OMEGA OILS contain a range of essential fatty acids (EFA's) – vital oils which the body requires but cannot manufacture itself. Hence, they need to be supplied as part of the diet, and are frequently deficient in these days of fast food and ready meals. Not many individuals manage to eat plentiful supplies of nuts, seeds, oily fish and dark green vegetables, and this is particularly true of those for whom EFA's are most important – children, the elderly and women who are of reproductive age, pregnant or breast feeding. EFAs are also important for health of circulation, joints, nerves and brain, digestion, hormones, skin and anti-inflammatory defence. As in so many other areas, a balance between the Omega 3 and 6 oils is very important. The western diet is generally overloaded with Omega 6 EFA's from vegetable oils, so more people are likely to need to increase their intake of Omega 3 EFA's from fish and seed oils. Whilst it would be ideal to obtain all our EFA's from a perfect diet, in many instances supplementation is a more viable option, particularly if high levels are required for therapeutic dosage.
For further information see Omega Oil Article.
Note:

EFA's are delicate and can become oxidised, or rancid, very easily, rendering them toxic rather than health-giving. Avoid storing them exposed to heat or light and keep containers tightly closed. Rancidity can also occur inside the body if insufficient protective antioxidants are available. Take an antioxidant complex if you are taking regular supplements of any of the omega oils.
Consult your healthcare practitioner if you intend to take more than 3000 mg of omega oils daily, as larger doses should only be taken under supervision.
© Eminence Ltd 2007 - 2017